Custom Engineered Approach
Friction welding solutions for the Automotive industry
From our early days working for Studebaker Automotive to today, our extensive experience in automotive welding solutions is evident in the enormous variety of parts our machines produce. Those applications include stabilizer bars, engine valves, pistons, drive shafts, transmission gears, turbochargers, bumper shocks, suspension components, steering components, water pumps, axles, air bag inflators, camshafts, U-joints, and so many more. Friction welding may be fully integrated into automated production lines to handle this industry's high volume demands.
Is the Double Ended Axle Machine right for your company?
BRING IT ALL TOGETHER with MTI's friction welding for axles and housings.
How is MTI solving current problems in the automotive manufacturing industry?
We're excited to share with you a NEW technical white paper about the advantages of friction welding in the automotive industry. In recent years, the automotive industry has faced an increasing number of challenges. Customers in the automotive industry demanded a machine that could keep product costs low, meet rigorous standards, and keep up with changing trends. Tier 1 and Tier 2 automotive suppliers were looking for a solution that could stand up to harsh environments but also help them achieve their lean manufacturing goals. Get started today and GO ALL IN!
GET THE FREE WHITE PAPER
Sample Parts
Solutions that make it easy to select the right friction welding technology
Why friction welding is vital for Automotive applications
Demand for automotive airbag inflators has stimulated the increase in the number of friction welders manufactured for the automotive industry since the 1980s. That's because advantages such as a full-penetration weld, as well as its narrow heat-affected zone have made friction welding a key method for joining fully-loaded airbag inflators. The dramatic increase in the volume of friction welding applications and equipment continues to this day. Successful material combinations include aluminum, low carbon steel, and stainless steel alloys.
Explore Our Process
Machine Talk Blog
The welding solution to the challenges you're facing may be one click away
Whiteboard Wednesday: Low Force and Small-Scale Joining
This episode of Whiteboard Wednesday gives you a glimpse at the capabilities of our microwelder, which is a Low Force Friction Welding machine capable of welding some of the smallest parts available!
Eyes of an Engineer: Finding a Home at MTI
In part nine of MTI's Eyes of an Engineer series, we sit down with Sarah Sahib, a software engineer who helps bring MTI's friction welding machines to life!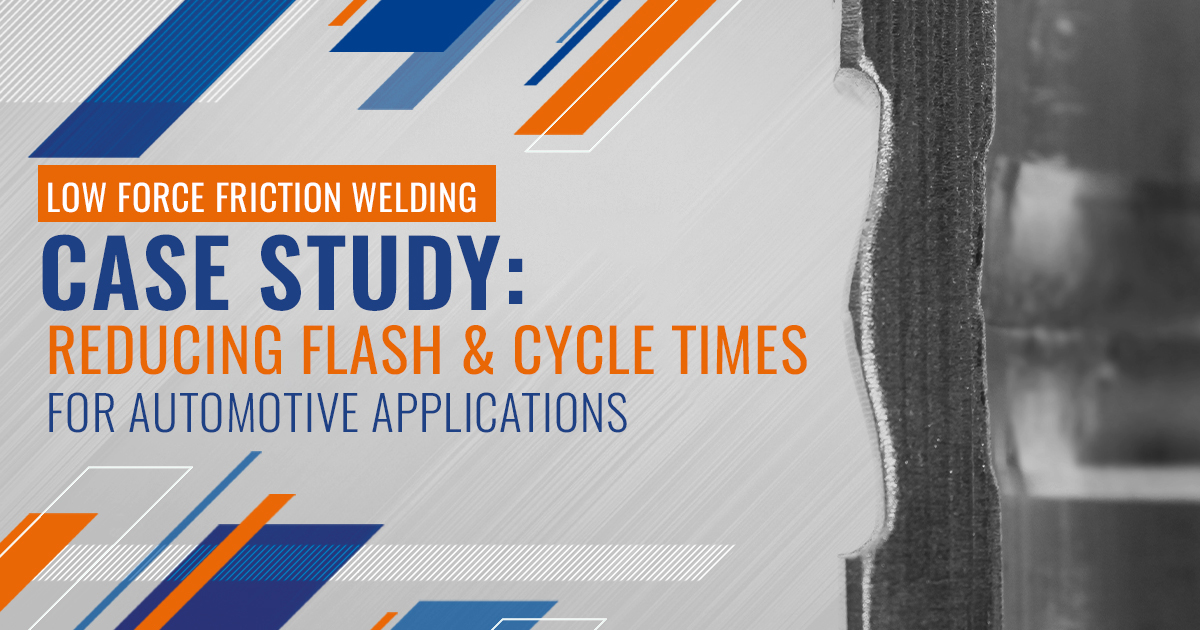 Case Study: Low Force Friction Welding for Automotive
Seeking a joining process that would produce a smaller flash formation, one automotive company worked with MTI to find a new process for their tubular applications.
The Limitless Posibillities of MTI's Model 400 Friction Welder
MTI's Model 400 is the largest rotary friction welder available for contract friction welding. Explore all the possibilities for your project!